About 
The Basement Doctor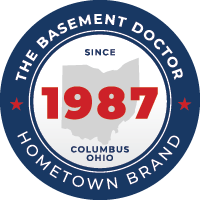 More About The Basement Doctor Columbus: Your Local Basement Waterproofing and Crawl Space Repair Company
The Basement Doctor Columbus is the premier basement waterproofing company in Columbus, OH. For more than 30 years, our focus has been delivering quality results to homeowners by using the best products and staffing passionate individuals.
We have learned a thing or two with more than three decades of experience. Our home services experts are trained in waterproofing, foundation repair, crawl space encapsulation, spray foam insulation, mold remediation, and basement finishing.
Because we invest in our team members, they grow, improve, and learn better techniques. We fully understand that the happier our employees are, the better results they will give you.
The Basement Doctor Columbus Offers A Comprehensive Process Designed to Save You Time and Money
We start every project with a FREE inspection. Our inspections are free because we want to help you discover the source of your problems and give you a comprehensive list of solutions. At The Basement Doctor Columbus, you don't have to worry about a costly inspection finding nothing wrong with your home because our inspections are free.
Second, we discuss any problems we found during the inspection. Our waterproofing experts will detail our permanent and practical solutions as well as provide a FREE estimate.
Next, if you wish to continue, we will schedule an appointment. Different solutions vary in terms of days and work needed. A crawl space dehumidifier will require less time than a basement finishing. However, our team is thorough, quick, and professional. They double-check their work and always leave your home better than they found it.
After the project is finished, we will discuss financing options and payment plans further. Our goal is to make our services as competitive as possible. We also offer financing so you can fix your home without breaking the bank.
Lastly, we discuss annual maintenance plans to keep your home in the best condition year-round.
Common Home Services Request We Have Fulfilled
Wet basements have been solved with our basement waterproofing services
Moldy, damp crawl spaces are easy to overcome with our crawl space waterproofing services
Critters in your crawl space? With our crawl space encapsulation services, we can get critters out and give you a dry crawl space
Worried about your failing sump pump? We provide sump pump installation and repair services
Sagging floors? Our crawl space repair services will strengthen your floors and stabilize your home
Through foundation repairs, we can bolster your leaning or bowed walls and give you the peace of mind you need
Want the perfect basement? Our basement finishing services are an excellent way to increase your home value and personal comfort
Our Focus Is To Give You A Healthier, Cleaner, and Drier Home
At our basement waterproofing company in Ohio, we have seen it all. From wet basements in century-old homes to damp crawl spaces in newly renovated properties, we understand how to assess problems and deliver solutions.
In each case, we've provided concrete solutions to our clients. Our contractors have settled big and small jobs with our skill, experience, and expertise.
Here at The Basement Doctor Columbus, we're confident your family will love our services. Our experts and technicians are thorough, and their goal is to resolve current issues while preventing future problems.
Lastly, with more than three decades of experience, we will continue to ensure the health, safety, and comfort of you and your family.
Contact Our Crawl Space and Basement Waterproofing Company in Columbus, OH
Are you concerned about a problem within your home? Call us today and schedule a FREE inspection that fits into your busy life. We are proud of our team and would love to help with your next home project.
Looking for A Home Repair Career?
Visit www.bdhireme.com for open positions.