A Partner You
Can Depend On
Award Winning Products and Services Since 1987
Home inspections can jeopardize your clients' closings, but The Basement Doctor is on the job!
Contact us today:
614-879-1742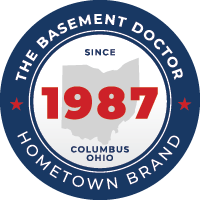 REAL ESTATE
PARTNERS
PROGRAM
Are you a real estate professional tired of derailed closings due to unexpected issues with a home's foundation? These issues not only add stress, but can also lead to lost opportunities and frustrated clients. The Basement Doctor's Real Estate Partners Program is designed with you in mind, offering a reliable solution to overcome bad inspections and keep your closings on track.



A COLLABORATIVE APPROACH
The Basement Doctor's real estate specialists can off support to both buyers and sellers dealing with the challenging issues that can emerge in a home inspection report. We understand the urgency and delicate nature of these transactions, so our goal is to help you close the sale quickly with simple, honest, and necessary solutions.
Why Become A Real Estate Partner?
FREE ESTIMATES:


We offer no-risk, in-home consultations. There are never any




fees for the buyer or seller for our assessments.

THE BASEMENT DOCTOR GUARANTEE:
With over 35 years in business, we pride ourselves on being the most trusted brand in the industry. Our experts take an honest approach to provide the right solutions for your clients. You can feel good about your partnership with us!
PRIORITY ASSESSMENT SCHEDULING:
We have experienced real estate professionals ready to help! We can accommodate "same day" appointments.
PRE-LISTING ASSESSMENTS:
Get ahead of the home inspection by knowing if there are any foundation issues in your client's home.
FLEXIBLE INSTALLATION SCHEDULING: We will work with you and your client to schedule the job to ensure closing can stay on track.
PAY-AT-CLOSING OPTION:
We understand that buying or selling a home can be a financially stressful time for your client. We offer a pay-at-closing option to make this process as easy as possible.
We can help you keep the closing process on track!
Contact us today:
614-879-1742